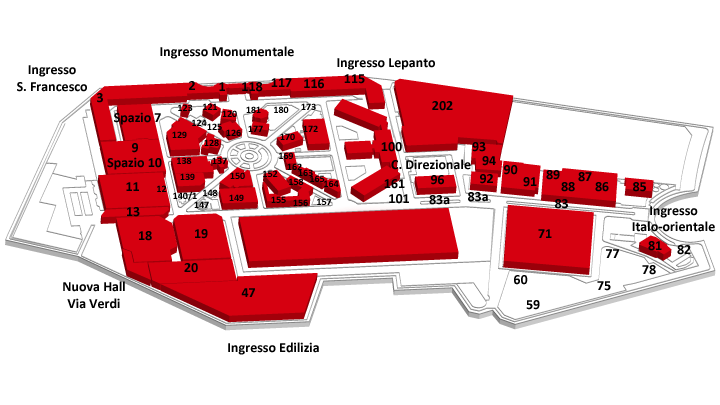 Siamo qui
Padiglione Salone Arredamento
Stand 300 - 301 - 302

81^ Fiera del Levante di Bari
La MBM con le sue innovative linee di tavoli da biliardo e da gioco non poteva mancare un appuntamento così importante nel quale da sempre spicca tra le numerose aziende presenti, grazie al design innovativo e concettuale che contraddistingue ogni suo modello.
Proprio da una attenta ricerca tecnologica unita ad una sublime ricerca estetica nascono i modelli della MBM.
Presente infatti sul mercato dal 1972, MBM Biliardi è leader nella produzione di tavoli da gioco di alta qualità, pensati per soddisfare tutte le esigenze mettendo al centro l'esclusività della linea, la qualità superiore dei materiali e tutta la sapienza artigianale del Made in Italy. Non solo biliardi senza eguali ma prodotti disegnati e realizzati su misura, come afferma il cav. Mariano Maggio, presidente di MBM Biliardi: "Lo studio del design, la preziosità delle finiture, la ricerca rigorosa dei materiali migliori non solo fanno di MBM Biliardi l'azienda numero uno del settore, ma rendono i nostri prodotti dei veri e propri gioielli unici".
Punta di diamante della collezione, il biliardo esclusivo B_ig, disegnato da Massimo Iosa Ghini per MBM Biliardi, insignito del prestigioso premio Good Design™ 2011, assegnato dal "Chicago Athenaeum: Museum of Architecture and Design" e "The European Centre for Architecture Art Design and Urban Studies", uno dei più riconosciuti programmi per eccellenze di design in tutto il mondo. Prezioso ed innovativo, il biliardo B_ig è realizzato con legni naturalmente stagionati negli anni e selezionati da maestri di alta ebanisteria. È costruito con leggi di compensazione tali da consentire l'annullamento dei movimenti naturali dei materiali, garantendone la perfetta stabilità nel tempo. Un biliardo unconventional che raggiunge l'equilibrio perfetto in classe e tecnologia e sembra sfidare la forza di gravità, come afferma Massimo Iosa Ghini: "Il design italiano è un design di invenzione, è un design dove c'è un'idea che fa sì che il progetto abbia un elemento connotativo di differenza". Linee scattanti, aerodinamiche e futuristiche: la scocca esterna ricorda le curve di uno yacht, mentre materiali e linee sono frutto di un concept ricercato, capace di rispettare la tradizione di una funzionalità necessaria al gioco senza rinunciare ai tratti più contemporanei.
Perché la MBM crede fortemente che siano ancora le idee a poter cambiare il mondo.
Vi aspettiamo dal 9 al settembre aprile 2017, presso il Padiglione Salone Arredamento – stand 300 – 301 – 302
Roma, 04 Settembre 2017