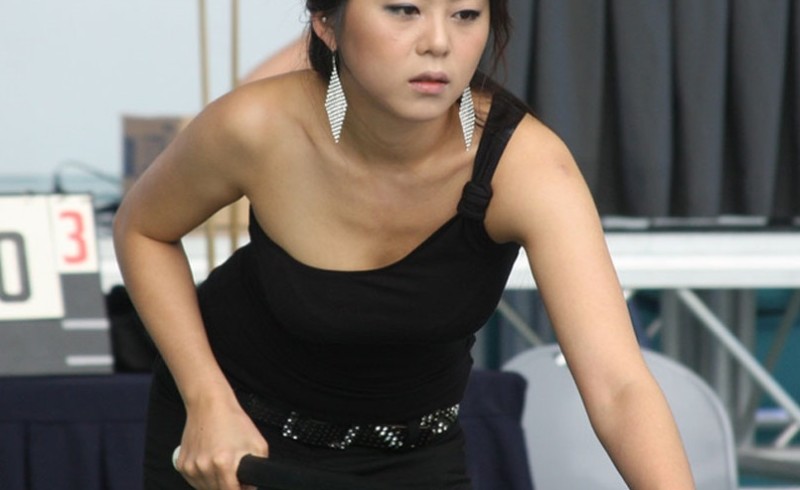 Kim Ga-young (born 13 January 1983, Seoul; sometimes referred to in the Western media as Ga-young Kim and nicknamed "Little Devil Girl") is a South Korean female professional pool player who plays on the Women's Professional Billiard Association (WPBA) tour. Her father began teaching her to play three-cushion billiards (a form of carom billiards) when she was about twelve years old. After playing three-cushion for about three years, she started playing nine-ball pool and turned pro at the 2003 BCA Open.
She practices about 30 hours a week and enjoys a friendly rivalry with fellow Asian WPBA player Pan Xiaoting of China. Kim and Pan met in the finals of the 2007 Carolina Women's Billiard Classic, with Kim prevailing 7–6 in the WPBA's first all-Asian championship match.
Kim and Pan finished the 2007 WPBA season ranked 2nd and 3rd, respectively, behind perennially top-ranked Allison Fisher. Kim speaks Mandarin Chinese in addition to her native Korean language.
Kim Ga-young's style speaks for itself. With her cornrow hair and all-black clothes, the 32-year-old is signaling she's more than an average player.
Throughout a recent interview, she gave direct and clear answers, just like her forthright appearance. "Can you refine my answer a little bit in the story?" she said. "I'm a person who speaks candidly."
Kim, nicknamed "Little Devil Girl" in the West, first grabbed a cue when she was in fourth grade, under the guidance of her father, who was running a billiards club. After school, Kim's routine was to play three-cushion billiards or four-ball billiards with adults.
She switched to pocket billiards when she was a middle school student, and after six months playing pool, she became the No. 1-ranked player in Korea. With no challenger in the domestic level, she turned her focus internationally after graduating from Incheon Munhak Information High School. She left for Taiwan in 2001 and played for more than 10 years in Taiwan and the United States.
When Kim Ga-Young came back to Korea in 2011, there was a trend that pretty players were getting more spotlight. After being asked how she felt about it, Little Devil Girl declared"I'm the world No.1, and what's with the pretty face?" I can accept people paying attention to beauty, but I was sad that people couldn't pay attention to my skills. It took me a long time to accept the reality. Now, I'm fine.
Read the Full Article on Korea JoongAng Daily
Photo Credits: Kenneth Tristan Ph.