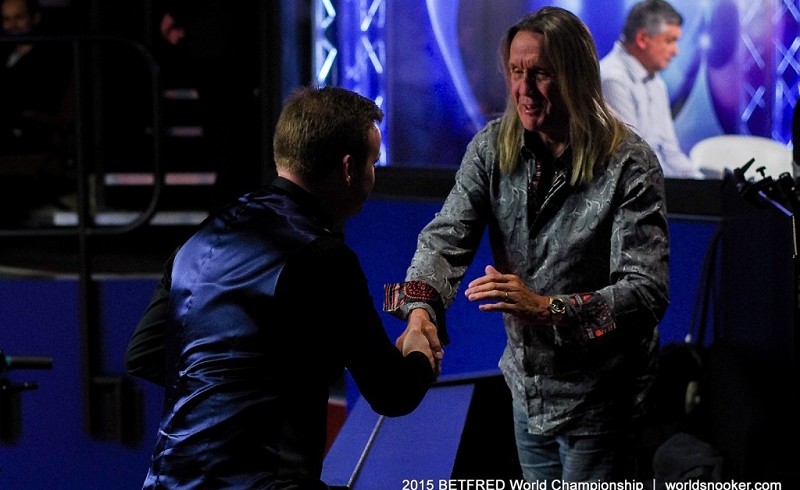 Is the Number of the Beast actually 147?  Nicko McBrain, the drummer in legendary band Iron Maiden, has a lifelong passion for snooker and was at the Crucible for the final of the Dafabet World Championship.
With 90 million records sold and over 2,000 live gigs behind them, Iron Maiden have been the pioneering force of heavy metal since 1975, their most famous tracks including Number of the Beast, Run to the Hills and Fear of The Dark. Nicko has been with the band since 1982 and is widely recognised as one of the most gifted and innovative drummers of his generation.
But his love of snooker has run alongside his love of music. And a chance meeting in a London chippy with two green baize legends earlier this year helped  Nicko fulfil two of his snooker ambitions: to own a full size table and attend the final of the sport's biggest tournament.
"This is a cool story," laughs the 61-year-old, who was born and bred in London but now lives in Florida. "Before last Christmas, my wife and I were talking about snooker. She's an American lass but she's pretty good on the table herself. We decided that we would build a snooker room in our house.
"In January I needed to make a trip home from the US. It was a Monday evening and my son and I went out to my favourite fish and chip shop in the whole world.
"We're sitting there, and over in the corner is Ken Doherty and John Virgo. So I said to my boy 'cor blimey Nick, that's two snooker legends sitting over there, I must go have a word with them about getting a table for my snooker room.' Nick tried to talk me out of it because fans sometimes come up to me in restaurants while I'm eating. But I decided once they had finished their dinner I would go and introduce myself.
"Straight off, Ken burst in to a rendition of Run to the Hills, and his voice wasn't too shabby. It was the beginning of a firm friendship. Ken helped me find a table for a snooker room, which is fantastic. The only problem is the pockets are too small! And I decided to come to the final at the Crucible for the first time this year, to see Ken and watch the match I had always dreamed of seeing live." […]
Nicko has been an integral part of Iron Maiden's success throughout, enjoying worldwide celebrity and success.
But he has never lost touch with his roots, nor his love of snooker which dates back to the 1960s.
"I first got into it when I was a young boy, my dad and uncle used to play at Wood Green Snooker Club," he said. "I loved the vibe there. My dad would take me in on a Saturday afternoon and the manager was ok to let me in even though there was an age restriction".
"That was 50 years ago and I have been into snooker ever since. What I like about the game is the effort that it takes, the concentration and then the feeling you get when you make a solid connection and your object ball disappears off the table leaving you in that perfect position for the next shot. Then the fun begins as you try to repeat it," said Nicko.
In his professional life, he spends much of his time touring from one country to another playing concerts, so he can empathise with snooker players who travel the globe with cue in hand. […]
Photo Credits and full article on WorldSnooker.com