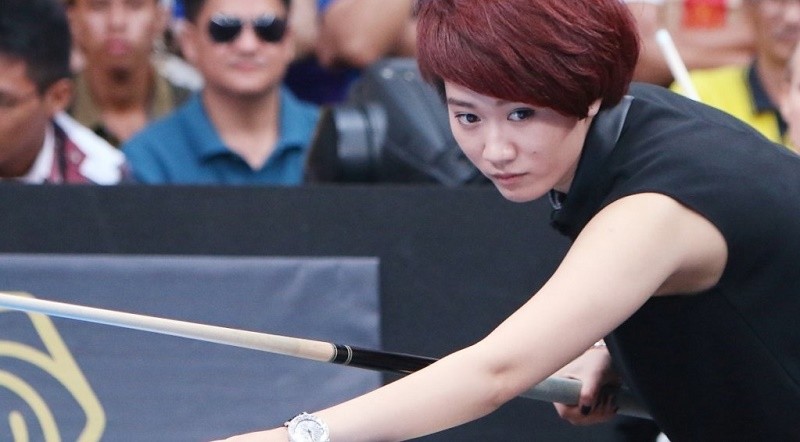 Han Yu (born 10 July 1992 – Guilin), who joined China's national billiard team nine years ago when she was just 16 years old, early fulfilled the dream that she and her coaches knew would someday come. And what a way to do it: in front of several hundred people watching inside the Richgate Shopping Center in Shenyang, and an estimated audience of nearly 100 million people watching on China's state television,  Han completely outclassed Taiwan's Lin Yuan Chun, and won the 2013 WPA Women's World 9-ball Championship, at the age of 21.
Han's success  marked the fact that, but for a few exceptions, the epicentre of women's 9-ball pool was turning out to be in China.
For the last few years, the talented Han Yu has noticeably taken a bit of a back seat to the more high profile players on China's national team, such as Liu Shasha, Fu Xiaofang, and Chen Siming (not to mention Pan Xiaoting and Fu Xiao Fang).
When it comes to win, she never forgets to thank her parents, especially her father, for nurturing her dream of becoming a professional pool player.
"When I was younger my father liked to play pool and he encouraged me to play.  My mother just wanted me to study and she didn't want me to play pool. But I wanted to play pool because it's a popular international game. My father won out (laughs). I always wanted to win a world championship and from the beginning I always wished that my dream would come true. Now it has. I'm happy."
From then on, Han Yu's career is better and better: talented and beautiful, with a powerful charm and a strong personality, she will be master of World Professional 9-ball Pool, For Years.
As usual Chinese team is going to display the most dominant 9-ball program in the world.