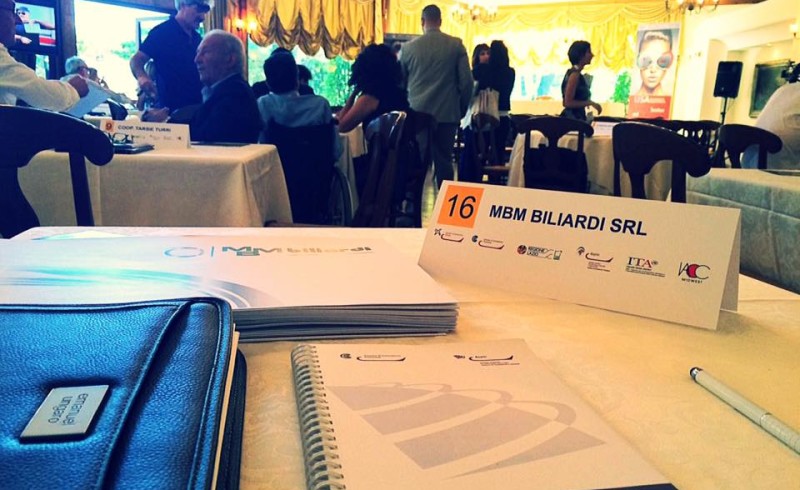 During last Monday, 2016 July 18th and Tuesday, 2016 July 19th , MBMBiliardi took a part in very important event, promoted by ASPIN – Special Italian Company of Internationalization and Innovation of Chamber of Commerce of Frosinone city, supported by Government of Lazio Region and incollaboration with ITA – Italian Trade Agency and IACC – Midwest
INCOMING USA 2016's aim is to promote in U.S.A. the Italian companies and Made in Italy of furnishing and design, facilitating meetings between Architects and Designers of most important design studies of U.S.A. with Italian artisan companies from central administrative Lazio Region.
MBMBiliardi had the pleasure to meet preciuos design studies from different places of U.S.A. in luxury restaurant "Mantova del Lago", located Posta Fibreno (FR). After this meaningful meeting, MBMBiliardi was happy to give hospitality to numerous group of architects in its own company and operative factory, located in Paliano city ( 50km from Rome), Italy.
This meeting left thrilling impressions and comments of American architects and designers, which had the pleasure and honour to assist directly various production phases of manufacture of billiard table, from its design to its meticulous finishes.
The aim of MBMBiliardi is to be able to penetrate such wide and potential territory as it is U.S.A. Our arm is the attentive constant Design research, tradition, details, quality and first od all High Technology – main characteristic of famous MBMBiliardi brand.
We want to bring all arourd the world a real Made in Italy, that is why our slogan is and remains: "The billard can not be bought at random, only MBM Biliardi guarantees art and technology." Naturally Made in Italy.